The instructions below demonstrate how to add or edit a link to news articles and pages.
You will first need to log in to your website, and navigate to the news article or page that you want to add the image to. Click into the content box and highligh the text that you would like to link.
Click the 'Insert/Edit Link' button, this looks like a chain.

A popup will now appear, click the 'cog' icon to bring up the settings menu.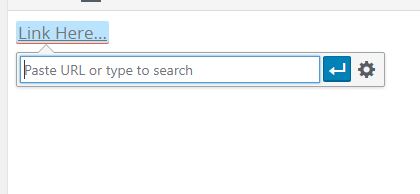 Enter the link in the first box. If you want the link to open in a new tab, check the box here as well. It is recommended that you select this option for any link to another website or for any document or PDF. Click the add link button and the link will have added.

To edit the link click on the link and some options should appear. To remove the link completly, click the 'broken chain' icon. Click the 'pencil' icon to open the settings. This will be the same as when you added the link.